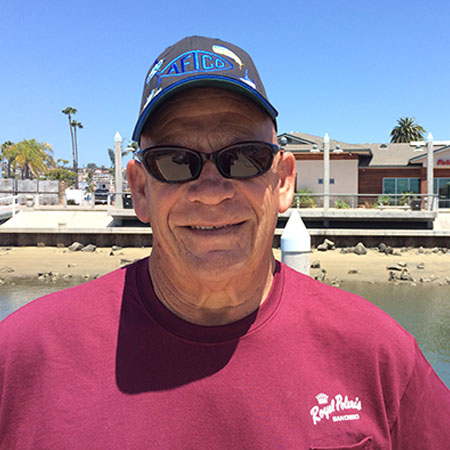 Frank Lo Preste is a captain and owner of the Royal Polaris.  Born in 1943, he began working as a deckhand at the age of eight years old, earning three dollars per day.  He worked as a deckhand on the Clemente, San Mateo, Frontier and Sea Raider.  He earned his captain's license at the age of 21, and ran his first vessel in 1965.  In all, he has run ten vessels, including the Sport (1965-66), Sea Horse (1967), Fury (1967), Patrician (1968-70), Webfoot (1971), Prowler (1971), Searcher 1 (1971-74), Nova (1975-76), Cape Polaris (1974-77), and Royal Polaris (1978-present).
Frank is the proud father of three children, Danielle, Gina, and Tony, and grandfather to five wonderful grandchildren. He is married to Kathy Rounds LoPreste. He enjoys fishing and relaxing with his wife and kids. He has a degree from St. Mary's College, where he graduated in 1965.
Roy Rose is a captain and owner of the Royal Polaris. He began fishing with his dad at the age of six. At twelve, he started crewing for various sport boats out of Seaforth Sportfishing in San Diego. He worked at Seaforth for ten years. In 1993, Roy earned his captain's license. He began working on the Royal Polaris the same year, and has stayed there since.
Roy is the father to two children, Rosalie and Lilian. He enjoys fishing and hanging out with his daughters in his spare time.
Chris Garcia is a deckhand aboard the Royal Polaris. Born and raised in Dana Point, California, he began working on sportsboats in Dana Point Harbor at the age of 12. At 20, he obtained his captain's license and was chief engineer and part-time captain aboard the long-range sportfisher, the Royal Star.
Chris has a degree in mechanical engineering, and owns an electrical company, Earth First Lighting. He enjoys nature, traveling the world, and living life well.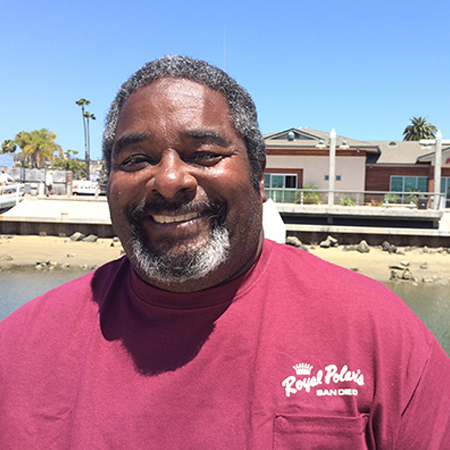 Dharyl "Big D" Shelbourne is a tackle master aboard the Royal Polaris, where he has worked since 1992. Dharyl served three tours with the Army in Germany, where he was a personnel manager. He began fishing at the age of five, and worked on his first boat, the Salmon Queen III, in the 1970s. He began fishing long range in the early 1980s and is a licensed captain.
Dharyl has been married for 28 years and has five children (Aneshia, Danielle, Deanna, Jeremy, and DJ) and eight grandchildren (Brianna, Sidney, Anjinee, Justing, Meme, Sabria, Elijan, and Isaiah). Dharyl is an avid sports fan, and follows baseball, basketball, and football. He attended Merrit and Maryland. He lives in Arizona.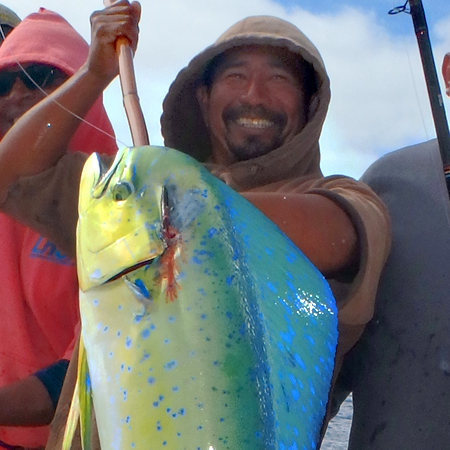 Eddie was born in the Philippines and came to the U.S. when he was 8 years old. Eddie started working on the Morning Star in 1994. He came to the Royal Polaris in 2000 and except fo a 6 month hiatus to fish commercial albacore has made the R.P. his home.
Eddie is extremely well liked by all of our passengers and his fishing skills are amazing. When we are on the fishing grounds you will find Eddie on top of the wheelhouse or in the crows nest always looking for bird schools, breeders or flat spots. He has amazing eyes and is very fishy.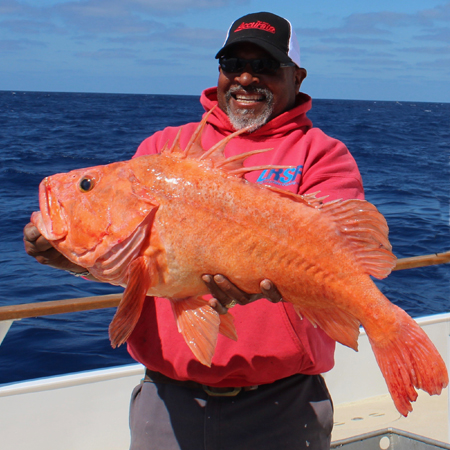 Also known as "Gunny" is a San Diego native. Tommie began his sport fishing career in 2002 after serving 21 years in the United States Marine Corps. Retired as a Gunnery Sergeant and having a love for fishing began working on the 3/4 day boat " San Diego " for four years. During which he acquired his 100 ton Master License and spent the next six years working long range on the "Shogun".
Tommie then joined the Polaris Supreme which he spent the next five years working. Tommie joined the Royal Polaris in the spring of 2017. With his expert skills, knowledge and excellent customer service he is a great addition to the Royal Polaris. On his time off he enjoys camping, hunting, shooting, bowling and of course fishing.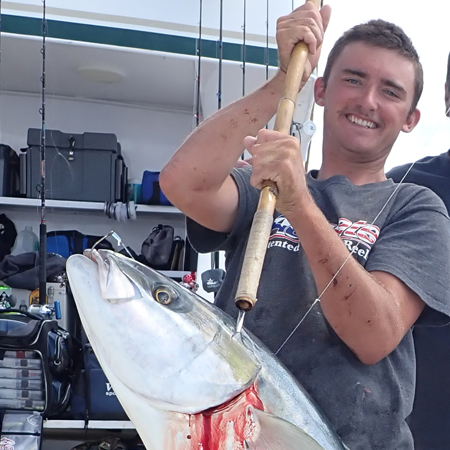 "I have been fishing my whole life". I got my first job on a 6-Pac boat when I was 12.  I have always made it my goal to learn something new everyday, which has got me where I am today.  It was always a dream of mine to work on the Royal Polaris, and my dream has come true.
I live to fish, learn and meet new people.  Whenever I am home I'm fishing hard and I'm fishing even harder at work!"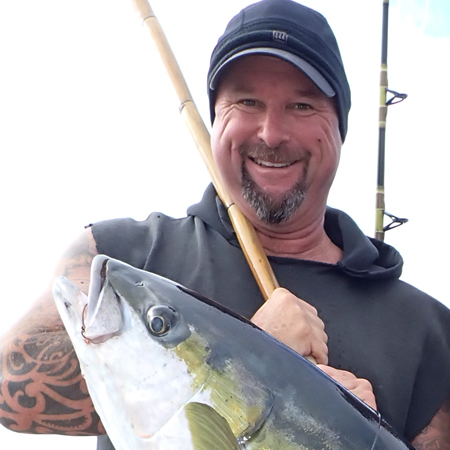 Ryan fished commercial swordfish and Tilefish when he was 19 years old on the East Coast.  In 1995 he moved to the West Coast, and continued to fish commercially.  He came to the Royal Polaris in 1998 and worked through until  2008.  He then left the Royal Polaris for 10 years always , during that time he built a dive boat in Louisiana, and ran it for 10 years.
He then came back to the Royal Polaris in March of 2018, and Ryan is a very knowledgeable crew member and a licensed operator.
Doug started with the Royal Polaris in 2014 and earned his USCG Ocean Operators License in 2017.Doug spent many years as a cabinet maker and also loved working with machinery he now services as one our engineers and he can also double up and be one of our chiefs as he as always enjoyed creating great dishes. He is an excellent fisherman and often spends his time off fishing on the Shogun.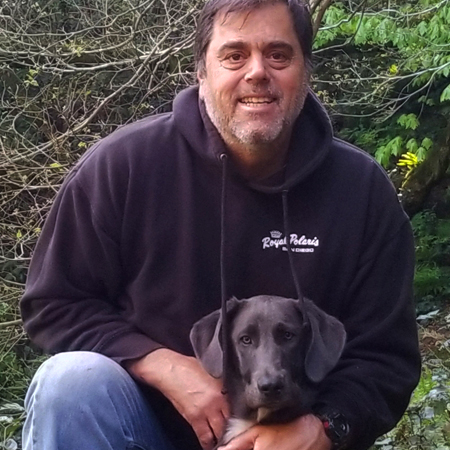 I was born into sportfishing. Having a father that owned the FURY2 when I came into the world, I am a third generation captain as both grandfathers were in the business as well.
Over the years I have worked for some of the best captain/owners in the business and have held every position on a boat.
It wasn't until I did a stint on a private yacht that the culinary bug but me, being g exposed to so many different ingredients as we traveled both coasts made me want to explore food and change directions career wise and I haven't looked back since. So now, I have the best of both worlds I get to cook and be on the ocean, and have best view, right out the kitchen window.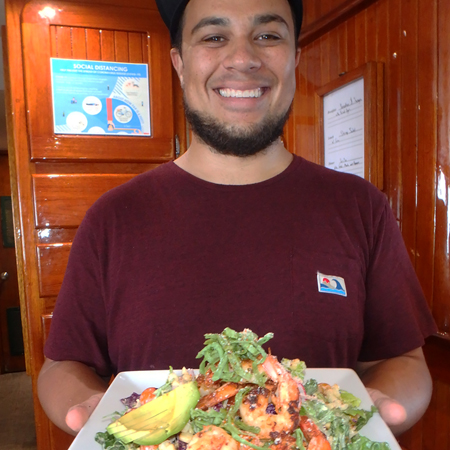 Chef Adriel Montes has over 15 years of culinary expertise. From humble origins in his mother's diner and catering business to traveling the country cooking in some of the best and most in demand kitchens.
Chef Montes has a great blend of cultures and techniques that offer deep, fresh flavors and beautifully executed plates.  He also has a hot sauce company, Eye of RA Hot Sauce.
Come aboard and check out what Chef Adriel Montes has to offer!
Monica has been a part of the Royal Polaris team since 2012. As Office Manager, she handles all things reservations, check-in, bookkeeping, HR and making sure you catch lots of fish (jk- she can do a lot, but that's our captain's job). When she's not at work, you can find her practicing yoga at the beach, trying out new recipes or out and about with her Black lab, Bodhi.